Get the latest tips & apps for your Smartphone
Bubble Bursting Puzzle Action Gets a Lot More Fun
After dominating the market with games such as the Candy Crush Saga, Bubble Witch Saga and Farm Heroes Saga, the developers at King have released the latest installment of the Bubble Witch franchise in Bubble Witch 2 Saga. In yet another bubble bouncing puzzle game, Stella and her Cats have to fend off dark spirits that are terrorizing their land. In Bubble Witch 2 Saga, gamers will be put to the test by seeing if they can burst as many bubbles as they can.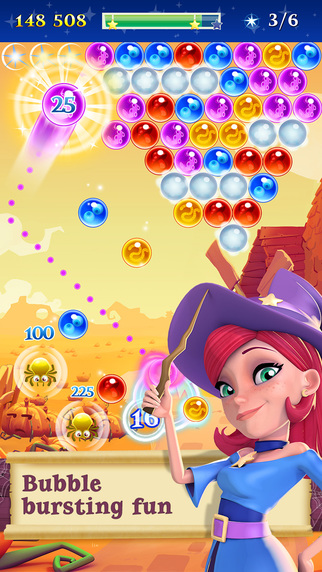 Bubble Witch 2 Saga has a progression system where Stella and her cats have to set off to free Witch Country from evil spirits piece by piece. So, the levels have to be beaten in order to free a piece of Witch Country. Bubble Witch 2 Saga goes by the free-to-play model, but there are some in-app items that can be purchased. These include getting extra moves to destroy more bubbles, which require extra payment. However, these purchases are optional and completely up to the player. It's a feature that can easily be disabled for the iPhone's device settings. So far, King has developed over 100 levels for players to experience, and more get added on a bi-weekly basis. This gives an added level of depth, so players will be able to challenge themselves regularly. King has also included a fun competitive element to Bubble Witch 2 Saga by adding leaderboards, so gamers can try to match or beat the high scores of their friends or other rivals.
Bubble Witch 2 Saga is just a click away. The game is available now for iOS and can be downloaded from the App Store.