Get the latest tips & apps for your Smartphone
Review: For a different way to type on the iPhone, try Fleksy
Syntellia's free text input system Fleksy for iOS is purportedly smarter than the average bear. According to Syntellia, Fleksy aims to bring "laptop keyboard" level touch-typing to mobile devices. It's designed to be a sort-of substitute to the native iOS keyboard, but lives as a standalone app instead—an interesting way to bring a different keyboard to the iOS platform.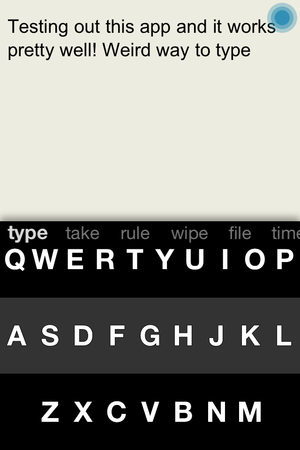 Fleksy consists only of a full-sized keyboard and traditional text box. Launch the app, and then start typing whatever you want. If you'd like to use your text with Facebook, Twitter, Mail, or Messages, tap the blue button in the top right corner to post to one of those platforms from directly within the app. If it's for another app, copy the text, close Fleksy, and paste what you wrote into the text box in whatever application you want to use that text in.
Does it work? Sort of. I particularly like Fleksy's invisible keyboard option, which essentially toggles the keyboard off and lets you thumb at the screen blindly. Pleasantly enough, errors have been minimal. Eight times out of ten, Fleksy has succeeded in discerning whatever word I've been trying to mash out. Unsurprisingly, though, it functions better with longer words (there is simply more room to work with) than shorter ones—Fleksy will rarely make a mistake with something like "discombobulate" but will routinely confuse "on" with "in."
There is a solution to that, of course. If the suggestion Fleksy has supplied doesn't fit your requirements, you can go fetch the correct word yourself by swiping downwards through a list of possible alternatives.
To read this article in full or to leave a comment, please click here
Got an iPhone?
Download Drippler 2.0

Notify me when Drippler 3.0 comes to iOS.
Coming soon

To Facebook Messenger