Get the latest tips & apps for your Smartphone
Today's apps gone free: Bit.Trip Run, Game of Senses, Dooo and more
We have something for every type of gamer in todays list. Puzzle fans will get a kick out of Game of Senses unique gameplay. If you want to test your wits, give Hi Guess the Riddle a try. And Bit.Trip Run will get your heart pumping and feet tapping with its stellar rhythm platforming.
All app prices are subject to change at any time and without notice regardless of stated free duration. Price changes are solely under the control of the developers.
iPhone:
DOOO ($0.99 Free, 16.9 MB): Collect your thoughts and turn them into tasks with Dooo. Its for those who need to capture and organize their thoughts no matter what they are.
Dooo does what other task management apps cant: A little bit of everything. Theres no one way to utilize Dooo. Just capture thoughts as they come naturally. Youre able to jot them down, speak them, snap a photo of them, or even sketch them out. Your thoughts can be organized within different groups, and you can set priority levels to ensure things get done. The app also includes the ability to set reminders, passcode protect your lists, and attach location data.
DOOO is available for free for a limited time. It has a 4.5-star rating with a total of 674 ratings.
Universal:
Pepi Doctor ($1.99 Free, 49.6 MB): This adorable educational game will help your child get over their fear of doctors and dentists. Its ideal for parents who want to teach their children about medical and dental visits.
Were recommending Pepi Doctor today because its not only fun, its educational! Your child is able to choose from three sick little patients: Amber, Eva, and Milo. They will have to cure five different illnesses using more than 20 different tools. Helpful outlines will appear in case your child doesnt know what to do with the tool in question. When a patient has been cured, they will give a smile and some applause.
Pepi Doctor is available for free today only (11/14). It has a 4.5-star rating with a total of 70 ratings.

Game of Senses ($0.99 Free, 11.3 MB): Utilize your visual and audio senses to find the hidden energy dots in Game of Senses. This totally unique puzzle game is for anyone who wants to stimulate their senses.
Game of Senses is exactly what mobile games should be. Its easy to pick up and play, and totally impossible to put down. The idea is to discover the hidden energy dots within the darkness by dragging your finger across the screen. Audio and visual cues will help you hunt down the energy dots, so keep your eyes peeled and your headphones cranked up. You have a limited amount of movements you can make in each level, and you absolutely can not allow your finger to leave the screen. Otherwise its game over.
Game of Senses is available for free for a limited time. It has a 4.5-star rating with a total of 7 ratings.
BIT.TRIP RUN! ($3.99 Free, 314.0 MB): A highly polished and highly rated rhythm platformer. Its for gamers who enjoyed any of Totally Choices previous games like Bit.Trip Beat and Bit.Trip Runner.
Games on iOS dont get any more premium than this. Your job is to jump, slide, kick, and spring through three eye-popping words filled with 30 regular levels. Once youve mastered the controls, go ahead and try the 12 challenge and 15 retro levels. And, unlike most mobile games, you'll want to pay attention to the storyline because its filled with hilarious dialogue and top-notch animations.
BIT.TRIP RUN! is available for free today only (11/14). It has a 4-star rating with a total of 419 ratings.
Hi Guess the Riddle ($0.99 Free, 4.5 MB): Crack the riddles in this trivia game. Its great for anyone who enjoys a challenging brain game.
Whats fun, challenging, and free to download today? Ok, thats not exactly a riddle, but youre going to have a blast solving them in Hi Guess the Riddle. Each level presents you with an interesting riddle, and you must use the pool of letters at the bottom of the screen to solve it. If you get stuck, you can choose to skip the level, remove letters from the pool, or ask your friends on Facebook. But you have a limited number of each, so try as hard as you can before giving in.
Hi Guess the Riddle is available for free today only (11/14). It has a 4.5-star rating with a total of 50 ratings.
That concludes today's issue of Apps Gone Free. If you like staying on top of these daily deals, don't forget to check out our free AppsGoneFree app.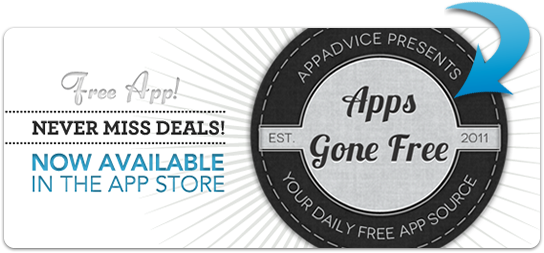 It provides all the deals each day, and even an archive of past deals that are still active.
Developers:
If you are a developer who would like to get your app included in our Apps Gone Free daily lists, heres our basic set of rules:
It must have at least a three-star average rating at the time it goes free.
The app must not have been free numerous times (3+) over the last six months.
The free version of your app must not include ads.
To submit an app, simply send a request to tyler@appadvice.com with the subject Apps Gone Free. Please include the name of the app, a link to it in the App Store, when and for how long you intend to offer the app for free, and anything else you would like to share. We will take it from there.