Get the latest tips & apps for your Smartphone
Today's apps gone free: Brushstroke, Fruit Ninja, Fixum and more
Were so close to the weekend, but that doesnt mean you cant have a little fun right now! Enjoy slicing fruit, skipping fish, creating paintings, solving puzzles, and driving across the country with todays collection of apps and games.
All app prices are subject to change at any time and without notice regardless of stated free duration. Price changes are solely under the control of the developers.
Universal:
Fixum ($1.99 Free, 11.1 MB): Move tiles around to match the solution design in Fixum. Its ideal for those who enjoy sliding puzzle games.
Fixum is a blast because of its variety. Each level starts off with a grid of tiles filled with shapes and patterns. The goal is to make your grid look just like the design at the top. Youre able to swap any two tiles just by tapping them. The number of moves used and the amount of time taken determines your score. As you progress through the game, all kinds of new concepts will be added to complicate puzzles. The game includes 16 episodes, 800 hand crafted levels, and achievements and leaderboards via Game Center.
Fixum is available for free for a limited time. It has a 4.5-star rating with a total of 299 ratings.
Fruit Ninja ($0.99 Free, 52.0 MB): Halfbrick's often imitated but never duplicated original fruit slicing game. Its for gamers who enjoy fast-paced action.
Fruit Ninja was rebuilt with its latest update. Fruits of many shapes and sizes enter the screen from all angles. It's up to you to slice them into juicy bits before they leave. String together combos using multitouch controls to climb the leaderboards. Just watch out for those dreaded bombs! Each blade now comes with a unique effect that will change the gameplay, so try to play around with them to see which best suits your style.
Fruit Ninja is available for free today only (12/18). It has a 4.5-star rating with a total of 693607 ratings.

Fish Out Of Water! ($1.99 Free, 28.2 MB): Get tossed into a competition where a group of playful fish and underwater mammals work together to impress the crab crew. Its for anyone that has enjoyed Halbricks pick-up-and-play arcade games.
Fish Out Of Water is easy to learn but impossible to master. The panel of judging crustaceans will score you based on the number of skips, distance traveled, and overall performance. Your team of fishy friends have a wide range of skills, but only you can utilize them correctly to score the most points in three attempts. Beyond mastering each fish, its important to try to complete side goals and collect charm gems in order to construct new power-ups.
Fish Out Of Water! is available for free for a limited time. It has a 4.5-star rating with a total of 9266 ratings.

Geography Drive Arcade ($2.99 Free, 47.7 MB): Join your kids and find out how well you know your U.S. geography with this educational game. Its ideal for parents who want to help their kids get ahead.
Geography Drive Arcade is actually based on Spinlights popular Geography Drive USA for iPad. It includes all of the mini games from Geography Drive USA, offering a fun and engaging way to learn state shapes, capitals, flags, and spellings. Your kids are able to earn trophies for mastering the skills. They can also study an interactive map and learn all about each state through information-packed brochures.
Geography Drive Arcade is available for free today only (12/18). It has a 4.5-star rating with a total of 86 ratings.
Glow Puzzle ($0.99 Free, 17.9 MB): You're going to be glowing with satisfaction after conquering these challenging puzzles. Its for gamers who enjoy casual, logic-based puzzles.
The object of the game is to connect all of the dots in each puzzle without reusing any completed paths. Just tap to pick a point and tap another to connect them. The game includes more than 850 puzzles, a glowing neon theme, animated solutions, and achievements via Game Center.
Glow Puzzle is available for free today only (12/18). It has a 4.5-star rating with a total of 1749 ratings.

Brushstroke ($2.99 Free, 22.0 MB): Transform your photos into beautiful paintings with just a touch with Brushtroke. This is a great addition to any iPhoneographers collection.
Brushstroke is all about simplicity. Pick a photo from your library or take a new one from within the app. Brushstroke will automatically transform your photo into a painting. You can then choose a different paint style, color, and canvas. Take some time and experiment, as there are a ton of combinations to create. When youre all finished, sign your painting to personalize it and send it off via Instagram, Twitter, or Facebook. Youre also able to have your new work of art printed and shipped to your doorstep.
Brushstroke is available for free for a limited time. It has a 4.5-star rating with a total of 283 ratings.
That concludes today's issue of Apps Gone Free. If you like staying on top of these daily deals, don't forget to check out our free AppsGoneFree app.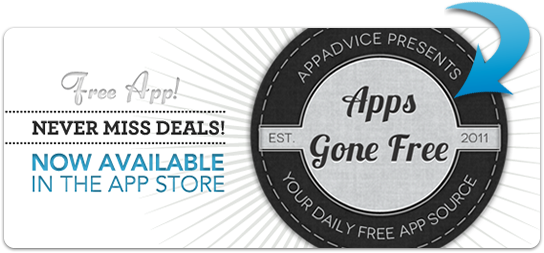 It provides all the deals each day, and even an archive of past deals that are still active.
Developers:
If you are a developer who would like to get your app included in our Apps Gone Free daily lists, heres our basic set of rules:
It must have at least a three-star average rating at the time it goes free.
The app must not have been free numerous times (3+) over the last six months.
The free version of your app must not include ads.
To submit an app, simply send a request to tyler@appadvice.com with the subject Apps Gone Free. Please include the name of the app, a link to it in the App Store, when and for how long you intend to offer the app for free, and anything else you would like to share. We will take it from there.