Get the latest tips & apps for your Smartphone
Today's apps gone free: Chinese Checkers, Calendoodle, Groops and more
We have a collection of fun apps and games for you to enjoy over your holiday break. Pull out your iPad and play a game of Chinese Checkers with friends and family. Get some quiet time to yourself by trying to match Groops. We even have a calendar app thats a ton of fun to scribble over.
All app prices are subject to change at any time and without notice regardless of stated free duration. Price changes are solely under the control of the developers.
Universal:
Calendoodle – The Pen and Ink Whiteboard Calendar ($1.99 Free, 7.8 MB): A personalized calendar that allows you to record notes and events with handwritten text. Its for people who prefer scrawling all over paper calendars.
Sometimes the simplest things in life are the best, and Calendoodle takes that idea and runs with it. The idea is to use Calendoodle like you would those paper calendars that are always attached to your fridge. Just tap on any date to bring it into full view and start scribbling all over. Youre able to choose from three colors and three pencil sizes, but thats about your only options. Simplicity is key here. Your scribbles appear on the monthly calendar just as you made them, allowing you to simply glance at dates to see whats next.
Calendoodle – The Pen and Ink Whiteboard Calendar is available for free for a limited time. It has a 3.5-star rating with a total of 41 ratings.
Chinese Checkers ($1.99 Free, 40.9 MB): The ultimate digital version of Chinese Checkers. Its the perfect board game for anyone looking to entertain this holiday season.
This is our favorite version of Chinese Checkers since there are so many ways to play. Youre able to choose from three different board styles and then guide your bugs or koi fish across the board to win. All of the usual rules apply, but in case youre not overly familiar with the game, there is a training mode available. As for the ways to play, you can take on computer controlled opponents, play against friends on the same iDevice, play locally via Bluetooth, or head online and challenge friends via Game Center.
Chinese Checkers is available for free today only (11/26). It has a 4-star rating with a total of 609 ratings.
Groops ($0.99 Free, 4.1 MB): A challenging puzzle game that takes the match-three genre to a whole new level. Its for anyone is tired of the same old formula.
Like most games in the genre, Groops has you on the lookout for groups of three tiles. The big difference here is that tiles can either share the same attributes or be completely different. The other thing to keep in mind is that tiles dont need to be adjacent to each other to be grouped together. Tiles have a total of four attributes with three options each, creating all kinds of matching possibilities. In the levels mode, you must find a specific amount of matches. In the time attack mode, you must simply move fast. The game includes three board sizes, more than 400 levels, online multiplayer, and achievements and leaderboards via Game Center.
Groops is available for free today only (11/26). It has a 4.5-star rating with a total of 17 ratings.
Hack RUN ($1.99 Free, 4.6 MB): An adventure game that requires you to hack into a mysterious organizations computer system to uncover their secrets. Its for those who have always wanted to be hackers and enjoy text-based games.
Hack Run is about as old school as you can get. Youre required to use command prompts to dig deeper into the system, and youll be rewarded for discovering new information. The game includes more than 50 levels, a list of your achievements, and tips and tricks in case you get stuck.
Hack RUN is available for free for a limited time. It has a 4.5-star rating with a total of 2654 ratings.
PDF PROvider ($7.99 Free, 25.6 MB): A PDF processor for power users. Its ideal for business professionals who are constantly dealing with PDF files.
PDF PROvider can turn absolutely anything into a PDF. You're able to view, convert, merge, edit, and manage all of your PDFs while on the go with ease. You can also turn almost anything into a PDF with a single tap including physical documents, photos, clipboard text, web pages, maps, contacts, and Pages, Numbers, Keynote, Word, Excel, and PowerPoint files. Attach notes, highlight text, insert stamps, and draw right on top of your PDFs before sharing them via email or Dropbox. The app also includes the ability to manage files with folders, and import files via iTunes File Sharing, Box.net, Dropbox, and Mobile Safari.
PDF PROvider is available for free for a limited time. It has a 4.5-star rating with a total of 1617 ratings.
That concludes today's issue of Apps Gone Free. If you like staying on top of these daily deals, don't forget to check out our free AppsGoneFree app.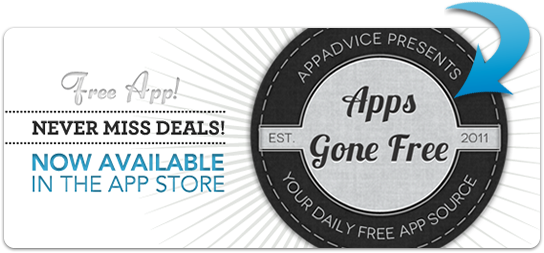 It provides all the deals each day, and even an archive of past deals that are still active.
Developers:
If you are a developer who would like to get your app included in our Apps Gone Free daily lists, heres our basic set of rules:
It must have at least a three-star average rating at the time it goes free.
The app must not have been free numerous times (3+) over the last six months.
The free version of your app must not include ads.
To submit an app, simply send a request to tyler@appadvice.com with the subject Apps Gone Free. Please include the name of the app, a link to it in the App Store, when and for how long you intend to offer the app for free, and anything else you would like to share. We will take it from there.