Get the latest tips & apps for your Smartphone
Today's apps gone free: Dayli, Vycloud, Simply Missy and more
Its the final weekend of the year, so we want to thank you for all of your support by offering up yet another fantastic edition of AppsGoneFree. Make sure to download Dayli and give it a try in the new year, and enjoy some family time with our collection of games and interactive entertainment apps.
All app prices are subject to change at any time and without notice regardless of stated free duration. Price changes are solely under the control of the developers.
iPhone:
Dayli – Everyday photo journal and time-lapse creator ($0.99 Free, 2.0 MB): See how youve changed each and every day of the year with Dayli. Its great for anyone who likes keeping a journal.
Dayli is so easy to use that you just might actually keep to your schedule. Start off by taking your very first photo. Youre able to create guidelines to help ensure you are in the same position in subsequent photos. Then come back each and every day to continue cataloguing your life. Reminders can be set to make sure you take your photo at the same time each day. Once youve built up a nice collection, youre able to create a time-lapse video that can be played back at three different speeds. The app also includes the ability to import and export photos, and the ability to create multiple profiles for other people, creatures, or objects.
Dayli – Everyday photo journal and time-lapse creator is available for free today only (12/28). It has a 4.5-star rating with a total of 65 ratings.
Vycloud ($0.99 Free, 19.6 MB): A beautiful, sleek, and detailed weather app. With its accurate seven-day forecasts, its ideal for anyone that needs an outlook.
The main screen provides you with an overview of the current conditions outside along with beautiful hand-painted animations. You can get a quick idea of what the weather is going to be like for the rest of the day via the graph at the bottom of the screen. You're also able to swipe up to reveal the seven-day forecast, and swipe left to view the chance of precipitation, cloud cover, humidity level, visibility, and barometric pressure.
Vycloud is available for free for a limited time. It has a 4-star rating with a total of 196 ratings.
Universal:

qub ($0.99 Free, 76.9 MB): Show off your cat-like reflexes with this challenging arcade game. Its perfect for those that enjoy intense minimalist game experiences.
If youre looking for a challenge, youve found it. The object of the game is to guide your white cubes around the screen in order to avoid colliding with the pastel colored cubes. Things are complicated by the fact that your two cubes mirror each others movements. If you can survive long enough, youll be aided by a brief but powerful shield, allowing you to smash through the colored cubes and earn bonus points. You can also share the experience with a friend on iPad.
qub is available for free for a limited time. It has a 4.5-star rating with a total of 49 ratings.
Tayasui Tangram ($2.99 Free, 53.3 MB): An absolutely adorable childrens tangram puzzle game. Its for creative children who love puzzles and animals.
Tayasui Tangram is one insanely colorful puzzle game. It includes 12 child-friendly animal models to piece together. Once completed, each animal can be interacted with in their own environment. Your child can also create their very own models from scratch using a variety of pieces.
Tayasui Tangram is available for free today only (12/28). It has a 4-star rating with a total of 5 ratings.
Snow Brawlin' Xtreme ($0.99 Free, 40.1 MB): Go Snow Brawlin with Risoo in this wacky arcade game. A gang of rogue rodents are trying to move in on Risoos turf, and the only way to settle this standoff is with a snowball fight! Snow Brawlin Xtreme is for casual gamers that are looking for a quick fix in between daily activities.
We really like how Snow Brawlin Xtreme combines tilt and tap mechanics. Tilt your iDevice to move Risoo into position and dodge the incoming snowballs. Tap on the feisty rodents in the distance to return fire. Your snowball supply is unlimited, so dont stop chucking them. Try to avoid taking a direct hit for as long as possible to climb the leaderboards.
Snow Brawlin' Xtreme is available for free for a limited time. It has a 4.5-star rating with a total of 51 ratings.

Simply Missy ($1.99 Free, 24.9 MB): A magical and highly interactive story box filled with wonder. You children will enjoy the rhyming tale and interactions.
Simply Missy is simply delightful for young children. The moment the lid is drawn from the box, theyre going to be sucked in to little Missys world. The rhyming story is professionally narrated, and your child is able to interact with items in each scene in order to help Missy on her shopping trip. Simply Missy isnt just tons of fun, it's also loaded with educational elements that will teach your child letters, words, shapes, and colors.
Simply Missy is available for free for a limited time. It has a 4-star rating with a total of 8 ratings.
That concludes today's issue of Apps Gone Free. If you like staying on top of these daily deals, don't forget to check out our free AppsGoneFree app.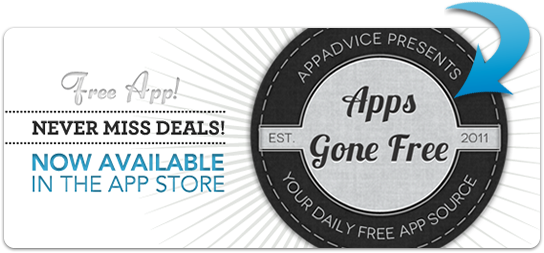 It provides all the deals each day, and even an archive of past deals that are still active.
Developers:
If you are a developer who would like to get your app included in our Apps Gone Free daily lists, heres our basic set of rules:
It must have at least a three-star average rating at the time it goes free.
The app must not have been free numerous times (3+) over the last six months.
The free version of your app must not include ads.
To submit an app, simply send a request to tyler@appadvice.com with the subject Apps Gone Free. Please include the name of the app, a link to it in the App Store, when and for how long you intend to offer the app for free, and anything else you would like to share. We will take it from there.