Get the latest tips & apps for your Smartphone
Today's apps gone free: Detective Grimoire, Brainsquare, Duckie Deck With Teeth and more
Our collection of apps and games today are all about your brain. Try to solve a murder case in Detective Grimoire. Use logic to solve puzzles in Brainsquare. And relax your brain with Deep Sleep Aid.
All app prices are subject to change at any time and without notice regardless of stated free duration. Price changes are solely under the control of the developers.
iPhone:
Deep Sleep Aid – Guided Meditation for Relaxation and Sleeping Deeply – Relax. Meditate. Sleep. ($1.99 Free, 66.4 MB): Fall into a peaceful and deep sleep with this guided meditation app. Its for anyone who has trouble winding down.
Put on a nice set of headphones, sit back and relax, and hit play. Deep Sleep Aid will produce relaxing background music for you to ease into. Youll then hear a female or male narrator guide you to sleep. The track is about 30 minutes in length and can be looped in case you need more time. Every morning youre able to rate your sleep and take notes if necessary.
Deep Sleep Aid – Guided Meditation for Relaxation and Sleeping Deeply – Relax. Meditate. Sleep. is available for free for a limited time. It has a 4-star rating with a total of 25 ratings.
Universal:

Brainsquare ($1.99 Free, 18.2 MB): Swipe to slide tile pieces and align them with their matching pin colors in this puzzle game. Its for logic puzzle fans who enjoy a challenge.
You want a difficult puzzle game? Youve found it in Brainsquare. The basic idea is to move the tiles in order to match them with pins of the same color. Youre able to move tiles with left and right swipes. Left is down. Right is up. The problem is that the tiles are a jumbled mess and youre only provided with a limited number of moves. As your progress through the game and more and more tiles are introduced, youre going to find yourself in quite the predicament. The game includes a total of 200 challenging levels.
Brainsquare is available for free for a limited time. It has a 3.5-star rating with a total of 17 ratings.
Detective Grimoire ($3.99 Free, 140.4 MB): Solve a murder case as Detective Grimoire in this captivating adventure game. Its for those who enjoy games like Ace Attorney.
This is one finely crafted adventure game. Everything from the story to the voice acting is top notch. You play as Detective Grimoire, and you must solve a murder that took place in a tourist attraction that was built in a swamp. You must investigate the swamp for clues and interrogate your suspects to uncover the mystery. All in all, youre in for a few hours of gripping gameplay.
Detective Grimoire is available for free today only (12/15). It has a 4.5-star rating with a total of 11 ratings.
Duckie Deck With Teeth ($1.99 Free, 32.1 MB): Your little ones can feed a hungry mouth and brush the teeth clean in this educational entertainment app. Its for any parent trying to teach their child about the importance of dental care.
Duckie Deck With Teeth does a fantastic job of allowing your child to learn on their own. Theyre able to populate the animated mouth with their own special set of teeth, fangs, and tusks by tapping and dragging. Snacks will begin to stream into the screen, and they can chuck them into the gaping mouth and watch as the teeth become grimy. Then when the time comes, they can brush the teeth until the smile is all white and shiny.
Duckie Deck With Teeth is available for free for a limited time. It has a 4-star rating with a total of 5 ratings.
iPad:
Flick Soccer! HD ($2.99 Free, 32.5 MB): Whether you call it soccer or football, youre going to have a blast playing Full Fats swipe-based arcade version. Its for fans of sports and high score games.
Flick Soccer! HD puts you in complete control of the ball. Swipe your finger from the bottom to the top of the screen to kick the ball through the air and hopefully into the goal. You can add a little extra bend to your kick by swiping left and right while the ball is in the air. The game includes five challenging modes, goalkeepers that jump and react to your shots, and achievements and leaderboards via Game Center.
Flick Soccer! HD is available for free for a limited time. It has a 4-star rating with a total of 417 ratings.
That concludes today's issue of Apps Gone Free. If you like staying on top of these daily deals, don't forget to check out our free AppsGoneFree app.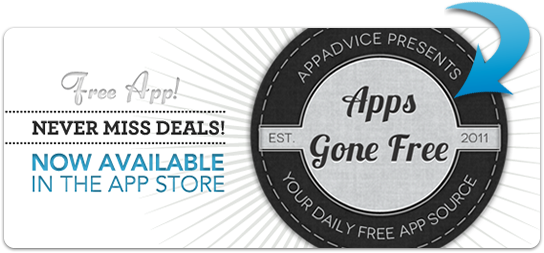 It provides all the deals each day, and even an archive of past deals that are still active.
Developers:
If you are a developer who would like to get your app included in our Apps Gone Free daily lists, heres our basic set of rules:
It must have at least a three-star average rating at the time it goes free.
The app must not have been free numerous times (3+) over the last six months.
The free version of your app must not include ads.
To submit an app, simply send a request to tyler@appadvice.com with the subject Apps Gone Free. Please include the name of the app, a link to it in the App Store, when and for how long you intend to offer the app for free, and anything else you would like to share. We will take it from there.