Get the latest tips & apps for your Smartphone
Today's apps gone free: iHydrate, Gro Memo, SoundCatcher and more
Get your weekend started on the right track with todays eclectic mix of apps and games. You can play a game with some friends in Radiant Rush, get healthy with iHydrate, or entertain your children with Gro Memo. We have it all!
All app prices are subject to change at any time and without notice regardless of stated free duration. Price changes are solely under the control of the developers.
iPhone:
iHydrate – Water Intake Tracker ($1.99 Free, 3.7 MB): Stay happy and healthy by monitoring your water intake with iHydrate. Its for anyone who wants to lose weight and stay energized throughout the day.
The human body is made up of anywhere from 55 to 60 percent of water, so theres no denying its absolutely vital to you health. If youre looking to stay healthy, look no further than iHydrate. Unlike other apps in the same category, iHydrate not only allows you to track your water intake but also all other beverages you consume throughout the day. This way you can accurately track your intake while also knowing how much of it was from non-water beverages. Youre able to set reminders to ensure you stay hydrated, and you can get visual breakdowns of how well youve been doing with a variety of graphs.
iHydrate – Water Intake Tracker is available for free for a limited time. It has a 4.5-star rating with a total of 8 ratings.
Universal:
Sago Mini Ocean Swimmer ($2.99 Free, 56.6 MB): Your little ones can join Fins the fish and explore his magical underwater world together in this entertainment app. Its perfect for any child who enjoys no rules, open-ended gameplay.
Sago Mini Ocean Swimmer allows your child to explore freely without any rules or restrictions. They can simply slide their finger around the screen and have Fins follow along. The eye-popping environments are loaded with silly creatures and animations to stumble across, so just hand off that iDevice and let them enjoy the fun. The app includes more than 30 animations, which are highlighted by yellow markers so your child doesnt miss a thing.
Sago Mini Ocean Swimmer is available for free for a limited time. It has a 5-star rating with a total of 53 ratings.
SoundCatcher- Instant music recognition ($4.99 Free, 27.7 MB): Identify the music playing around you in a snap with SoundCatcher. Its for those who get frustrated when listening to the radio and dont know the name of the song or the artist theyre hearing.
Have you always wanted Shazam or SoundHound but didnt want to spend $6.99 on a single app? If so, SoundCatcher is a great alternative. Its just as quick and accurate at recognizing the name of the song and the artist that is playing without the expense. SoundCatcher is also able to provide you with lyrics to the identified song so you can sing along. Youre also able to see the most popular songs that have been playing around you along with the ability to share what youve tagged via Facebook.
SoundCatcher- Instant music recognition is available for free today only (11/15). It has a 4.5-star rating with a total of 7 ratings.
Gro Memo ($0.99 Free, 41.8 MB): An eco-educational game that teaches your child about the environment. This charming app is ideal for parents and teachers that want their children to know about important sustainability issues.
Gro Memo allows children to see just how their actions can affect the environment and the critters living within it. Its not too preachy, either. Gro Memo instead teaches children about the environment through matching mini-games and puzzles that can be picked up and played without a single written instruction. Throughout the experience, your child will be able to travel through two environments and meet 39 friendly animated critters.
Gro Memo is available for free for a limited time. It has a 4.5-star rating with a total of 8 ratings.
iPad:
Radiant Rush ($0.99 Free, 21.1 MB): Create a path through the darkness and avoid falling off the edges in this board game. Radiant Rush is for anyone who likes to compete with their friends in strategic board games.
Seemingly inspired by Tron and Etch A Sketch, Radiant Rush will have you immersed in a mesmerizing mess of moves. On each side of the honeycomb-filled hexagon board are colored panels used as spawn points. Your line will sprout from one and follow the paths within the tiles. Its up to you to twist the tiles to direct your line and avoid colliding with walls, empty spaces, and the edges of the board. Survive longer than your opponents to come out victorious. The game includes five board configurations and three different modes, allowing for a variety of ways to play. Youre also able to play a game locally or host one online.
Radiant Rush is available for free for a limited time. It has a 5-star rating with a total of 24 ratings.
That concludes today's issue of Apps Gone Free. If you like staying on top of these daily deals, don't forget to check out our free AppsGoneFree app.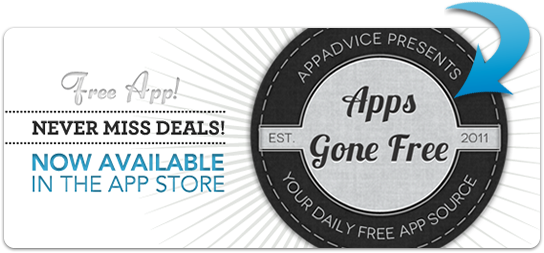 It provides all the deals each day, and even an archive of past deals that are still active.
Developers:
If you are a developer who would like to get your app included in our Apps Gone Free daily lists, heres our basic set of rules:
It must have at least a three-star average rating at the time it goes free.
The app must not have been free numerous times (3+) over the last six months.
The free version of your app must not include ads.
To submit an app, simply send a request to tyler@appadvice.com with the subject Apps Gone Free. Please include the name of the app, a link to it in the App Store, when and for how long you intend to offer the app for free, and anything else you would like to share. We will take it from there.