Get the latest tips & apps for your Smartphone
Today's apps gone free: Life Graphy, Routina, Table Tennis 3D and more
Visualize your goals, stay on top of routine tasks, and play a table tennis match with todays collection of apps and games.
All app prices are subject to change at any time and without notice regardless of stated free duration. Price changes are solely under the control of the developers.
iPhone:
Mechanic Panic ($1.99 Free, 8.4 MB): Play as a fearless mechanic working on the worlds first space elevator in this endless climbing game. Its for gamers who prefer arcade games with one-touch controls.
A massive explosion rocked the space elevator while you were working on it. Now you have to try and outrun the fireball rising from the bottom while saving as many people as you can. To do so, simply tap on the screen to jump from side to side. Elevators and other objects will go shooting up and down the shaft, so be sure to time your taps. You can also unlock robot buddies to assist you in your noble cause and new skills.
Mechanic Panic is available for free for a limited time. It has a 4-star rating with a total of 149 ratings.

The Wonder Cat ($1.99 Free, 26.4 MB): Help The Wonder Cat find his way home in this ridiculously colorful platformer. Its an adorable pick-up-and-play game suitable for gamers of all ages.
The Wonder Cat is one charming little feline. Even though hes lost in an untamed land, he always has a smile on his face. He will run along all on his own, so its up to you to navigate the platforms with perfectly timed jumps. Try to collect the flowers, stars, and random items the birds carry in to earn new powers and even ride along on friendly creatures. The game includes two distinct modes, and loads of challenges to take on.
The Wonder Cat is available for free for a limited time. It has a 4-star rating with a total of 34 ratings.
Routina ($0.99 Free, 9.4 MB): Manage the routine tasks in your life with Routina. Its ideal for those with loads of repeating tasks that need to be managed.
Routinas interface is dead simple. After naming your routine task, drag your finger around the dial to determine how often you want to repeat it. Youre able to have tasks repeated daily, monthly, and yearly, and they can be set to specific days of the month. Tasks can also include an alert, notes, and a photo. Youre able to view each task in list form, or as circles to provide more visual feedback. Routina also supports backups via Dropbox.
Routina is available for free for a limited time. It has a 3-star rating with a total of 10 ratings.

Life Graphy : Goals & Habits manager ($1.99 Free, 4.0 MB): Track your habits with this easy to use productivity app. Its for those who need help sticking to their goals.
Life Graphy is all about visualizing goals, whether thats sticking to a fitness schedule or tracking the days since your last smoke. To get started, create a list of all of the goals you want to complete. Each goal can include a start and end date, and they can be repeated on specific days of the week. Make sure to attach an appropriate icon to each goal as well. When a goal has been completed for the day, you can simply tap its icon within Life Graphys Notification Center widget to record it or launch the app. The app includes an intuitive calendar interface that fills in circles as you complete your goals, making it easy to see if youre succeeding.
Life Graphy : Goals & Habits manager is available for free for a limited time. It has a 3.5-star rating with a total of 26 ratings.
Universal:
Table Tennis 3D – Virtual Championship ($0.99 Free, 89.1 MB): Grab your paddle and compete in tournaments across the globe in this digital version of table tennis. It allows fans of the game to jump right in and play with little hassle.
Itching to play a game of table tennis? Well, heres your answer. Table Tennis 3D includes two modes: Career and Tournament. Both modes require very little setup. Just choose a paddle, a ball, and a venue. The game allows you to easily control the direction, spin, and speed of the ball with horizontal and vertical swipes. It also includes eight rackets, tables, balls, and unique locations to choose from, and the ability to create multiple profiles.
Table Tennis 3D – Virtual Championship is available for free for a limited time. It has a 4-star rating with a total of 6 ratings.
That concludes today's issue of Apps Gone Free. If you like staying on top of these daily deals, don't forget to check out our free AppsGoneFree app.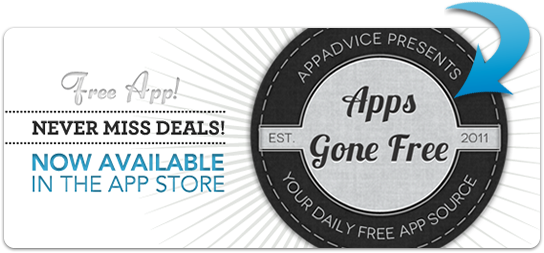 It provides all the deals each day, and even an archive of past deals that are still active.
Developers:
If you are a developer who would like to get your app included in our Apps Gone Free daily lists, heres our basic set of rules:
It must have at least a three-star average rating at the time it goes free.
The app must not have been free numerous times (3+) over the last six months.
The free version of your app must not include ads.
To submit an app, simply send a request to tyler@appadvice.com with the subject Apps Gone Free. Please include the name of the app, a link to it in the App Store, when and for how long you intend to offer the app for free, and anything else you would like to share. We will take it from there.