Get the latest tips & apps for your Smartphone
Today's apps gone free: Loggr, Dracula Twins, Smart Office 2 and more
Log everything in your life, play as the Dracula Twins, and create documents while on the go with todays collection of apps and games.
All app prices are subject to change at any time and without notice regardless of stated free duration. Price changes are solely under the control of the developers.
iPhone:

Cursive Writing – abCursive 2 ($0.99 Free, 938.8 KB): Learn to write cursive with this educational app. Its great for teachers or those who simply want to learn the long lost art of cursive writing.
Youre able to learn how to write both uppercase and lowercase cursive letters along with how to attach them. Each letter can be practiced separately, and youre able to view an animation to see just how they connect with each other. Youre also able to record your own writing. Have a word in mind? Type it into the blank field and Cursive Writing will convert it for you.
Cursive Writing – abCursive 2 is available for free for a limited time. It has a 4.5-star rating with a total of 89 ratings.
YellingMom – Clever & Simple Reminder Note ($0.99 Free, 25.6 MB): This gesture-driven productivity app keeps things simple so you can get things done. YellingMom is super flexible, so its ideal for anyone who needs to be reminded of tasks.
It allows you to sort your items by today, tomorrow, and someday. Each item can have a separate reminder time, and each can be repeated and include a note. A short swipe from left to right will mark an item off as complete while a long swipe will push it into a different category. You can also perform a short swipe from right to left to mark an item as important and a long swipe to hold it. Items can also be created and rearranged via common gestures.
YellingMom – Clever & Simple Reminder Note is available for free for a limited time. It has a 4-star rating with a total of 60 ratings.
Universal:

Dracula Twins ($1.99 Free, 59.3 MB): Help the Dracula Twins rescue their friend and retake the family castle in this retro-inspired platformer. Its perfect for fans of classic platformers like Super Mario Bros. and Sonic the Hedgehog.
Dracula Twins will take you straight down memory lane. Take the fight to Doctor Lifelusts undead army as you make your way over, under, and around obstacles in order to reach each levels exit. Your character is armed with skulls that can be tossed at enemies or you can simply bounce off of them. Search low and high to collect every last coin, letter, and emblem in order to earn a 100 percent rating. The game includes three playable characters that you can switch between during play, a classic world map, boss battles, and loads of fun.
Dracula Twins is available for free for a limited time. It has a 4-star rating with a total of 19 ratings.
Loggr – Graph Your Life ($0.99 Free, 5.9 MB): Keep track of anything in your life with Loggr. Its ideal for tracking everything from calories consumed and distance traveled to pages read and hours slept.
Loggr will help you improve everything in your life by tracking it. It includes a wide variety of built-in logs, but you can create your own custom metrics to track things specific to your life. Logs can be categorized for quick discovery. After youve recorded at least five separate data sets for a log youll be able to see metrics in graph form, and view your averages and totals. Loggr also supports the ability link data from other apps including RunKeeper, import and export data, and switch between a handful of colorful themes.
Loggr – Graph Your Life is available for free for a limited time. It has a 4.5-star rating with a total of 66 ratings.
Smart Office 2 ($9.99 Free, 24.9 MB): View, create, edit, and share Office documents with this productivity app. Its for business professionals and students who want to be more efficient while on the go.
The app is loaded with features, including a variety of formatting and font options, preloaded templates, search, AirPrint support, the ability to export files as PDFs, and Dropbox and Google Docs integration. It also supports a wide variety of file formats, so no matter what type of work you have, you can get it done.
Smart Office 2 is available for free for a limited time. It has a 4-star rating with a total of 4059 ratings.
That concludes today's issue of Apps Gone Free. If you like staying on top of these daily deals, don't forget to check out our free AppsGoneFree app.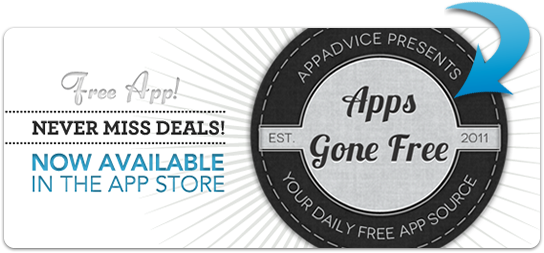 It provides all the deals each day, and even an archive of past deals that are still active.
Developers:
If you are a developer who would like to get your app included in our Apps Gone Free daily lists, heres our basic set of rules:
It must have at least a three-star average rating at the time it goes free.
The app must not have been free numerous times (3+) over the last six months.
The free version of your app must not include ads.
To submit an app, simply send a request to tyler@appadvice.com with the subject Apps Gone Free. Please include the name of the app, a link to it in the App Store, when and for how long you intend to offer the app for free, and anything else you would like to share. We will take it from there.