Get the latest tips & apps for your Smartphone
Today's apps gone free: Nihilumbra, Legend, Writebox and more
Todays AppsGoneFree collection really focuses on your words. Record your thoughts in a distraction-free environment with Writebox. Animate your words with Legend. Gain quick access to the phrases you use the most with OftenType. Put words over your photos with Phot.oLab.
All app prices are subject to change at any time and without notice regardless of stated free duration. Price changes are solely under the control of the developers.
iPhone:

OftenType – quick keys for frequently used texts ($1.99 Free, 7.7 MB): Have quick access to the content you utilize the most with OftenType. Its the perfect app for iOS 8 users who need access to snippets of content over and over.
OftenType requires a little bit of setting up, but once youre done, youll be happy with the results. Youre able to create an unlimited number of quick keys that contain all of your most used content. Keys can take on different icons to help better distinguish them, and youre able to add up to four snippets of content per key. When you need a piece of content, simply tap the appropriate key and it will be instantly placed within your document.
OftenType – quick keys for frequently used texts is available for free today only (03/01). It has a 4-star rating with a total of 27 ratings.
Legend – Animate Text in Video & GIF ($1.99 Free, 57.7 MB): Put your words in motion with this animation app. Its ideal for Instagram users or anyone else who wants to add context to a photo or video.
Legend will make your words legendary. You start off by coming up with a short blurb of text. Then choose from one of six animation styles. Depending on what your blurb is about, you can choose to leave it stand on its own with a colorful background, or choose a photo or video from your library or Flickr. You must then decide how you want to share or save your creation, whether thats as a regular video or animated GIF. The app supports text up to 100 characters, and videos up to six seconds in duration.
Legend – Animate Text in Video & GIF is available for free for a limited time. It has a 3-star rating with a total of 28 ratings.
Universal:
Nihilumbra ($2.99 Free, 265.5 MB): Help Born escape from his inevitable curse in Nihilumbra. Its the perfect game for fans of the puzzle-platformer genre.
The Void will stop at nothing to become one again. You must manipulate the earth to try and avoid capture at all costs. The game includes five different worlds that can be used as your canvas, two control schemes, about 10 hours of gameplay, an original soundtrack, and an unlockable surprise once you complete the game.
Nihilumbra is available for free today only (03/01). It has a 5-star rating with a total of 3319 ratings.
Writebox ($1.99 Free, 9.7 MB): A distraction-free text editor. Its for those who need help concentrating on getting their thoughts recorded.
Writebox provides the best mobile writing experience possible by keeping things simple. Youre able to customize your writing environment by choosing from different background colors, keyboard colors, and font sizes, colors, and type. While writing youll see a live character and word count at the bottom of the screen. An extra row of keys across the top of the keyboard allow you to easily navigate your text. Anything youve written can be synced with Dropbox or GoogleDrive.
Writebox is available for free for a limited time. It has a 3-star rating with a total of 16 ratings.
Phot.oLab – Photo editing studio ($0.99 Free, 41.3 MB): Spice up your favorite photos in no time with this easy to use editor. Its for those who want to add stickers, filters, text, and borders to their photos without wasting a lot of time.
Phot.oLab will help you get the job done quickly. Youre able to import any photo from your library or capture a new one from within the app. You can then go step by step through the editing process by adding a background, text, stickers, textures, borders, and filters. Phot.oLab has a lot of original content to choose from, so make sure to dig around and see what you can come up with.
Phot.oLab – Photo editing studio is available for free for a limited time. It has a 4.5-star rating with a total of 30 ratings.
That concludes today's issue of Apps Gone Free. If you like staying on top of these daily deals, don't forget to check out our free AppsGoneFree app.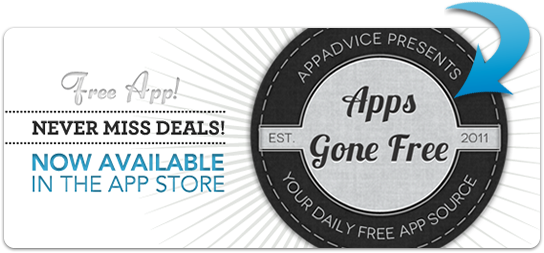 It provides all the deals each day, and even an archive of past deals that are still active.
Developers:
If you are a developer who would like to get your app included in our Apps Gone Free daily lists, heres our basic set of rules:
It must have at least a three-star average rating at the time it goes free.
The app must not have been free numerous times (3+) over the last six months.
The free version of your app must not include ads.
To submit an app, simply send a request to tyler@appadvice.com with the subject Apps Gone Free. Please include the name of the app, a link to it in the App Store, when and for how long you intend to offer the app for free, and anything else you would like to share. We will take it from there.