Get the latest tips & apps for your Smartphone
Today's apps gone free: Noti:Do, Places Around, Intervals and more
Discover new things around you and take note of them with todays collection of travel, fitness, and productivity apps.
All app prices are subject to change at any time and without notice regardless of stated free duration. Price changes are solely under the control of the developers.
iPhone:
aNote – Screenshot note ($2.99 Free, 5.9 MB): Mark up screenshots and photos with aNote. This handy extension is perfect for those who constantly find themselves in need of sharing annotations.
Apples extensions in iOS 8 can come in handy, especially when they come in the form of aNote. Whenever you need to point out something on a website or within a photo, simply tap the share button within Safari or Photos and activate the aNote extension. You can then annotate the shot by drawing all over it with a variety of colors, adding shapes, or adding text. Your annotated shots can be saved or shared. Its remarkably simple, but if youve never used an extension within iOS 8 before, aNote comes with a quick set of instructions to help you out.
aNote – Screenshot note is available for free for a limited time. It has a 3.5-star rating with a total of 16 ratings.
Intervals – Your smart and personal workout trainer ($0.99 Free, 11.3 MB): Build your own custom workout plans with this flexible fitness app. Its ideal for anyone that has multiple and varying workouts.
Intervals helps you to focus on your training. Entire workouts can be set up in just a few seconds. Tap to create a custom workout and give it a title. Then define the number of sets in your workout, add as many exercises as you like, and define your warmup and cool down periods. Exercises can include custom durations, colors, and specific music. When its time for training, tap on your workout of choice and start the timer. Youre able to control the timer and switch between exercises with common gestures.
Intervals – Your smart and personal workout trainer is available for free for a limited time. It has a 4.5-star rating with a total of 35 ratings.
Places Around ($1.99 Free, 4.4 MB): Discover businesses and points of interests and learn all about them with Places Around. Its ideal for frequent travelers.
All you need is the sound of your voice to discover new and interesting places nearby. Just speak to Places Around and it will instantly find what you need. Youre also able to browse through 40 predefined categories, search the map, or use keywords. Youre able to save places as favorites for quick access later on, allowing you to plan ahead. You can also receive and share directions and details for each place.
Places Around is available for free today only (01/26). It has a 4.5-star rating with a total of 112 ratings.
Universal:
Time Surfer ($0.99 Free, 30.4 MB): Surf across the galaxy and cheat death in this endless distance game. Its for those who enjoy games like Tiny Wings.
Dive into rolling hills by tapping and holding the right side of the screen, and release at just the right moment to shoot out of them. Try to avoid ramming into obstacles while collecting loads of different power-ups along the way. If you do smash into something, don't worry, you can rewind time! Just keep in mind your ability to rewind is limited, so use it sparingly. The game includes loads of challenges to complete, all kinds of unlockable pieces of content, iCloud support, and achievements and leaderboards via Game Center.
Time Surfer is available for free for a limited time. It has a 4.5-star rating with a total of 1670 ratings.
Noti:Do with Reminders ($0.99 Free, 7.1 MB): This simple productivity app allows you to log all of the tasks you need to complete for the day within Notification Center. Its perfect for those who are always in a hurry.
Noti:Do is all about speed. The moment you launch Noti:Do youll be brought to the task creation area. Enter any text youd like and tap the + button right above the keyboard. A notification will instantly appear within Notification Center, ensuring you wont forget to complete your task. Youre able to continuously add tasks until youve covered all of your bases for the day. You can also add tasks through Noti:Dos Notification Center widget. Tasks within Notification Center can be marked as complete with a swipe. The app also includes icon badging, the ability to adjust the number of tasks shown in Notification Center (via the Settings app), the ability to edit your list, and the ability to view completed tasks.
Noti:Do with Reminders is available for free for a limited time. It has a 4.5-star rating with a total of 61 ratings.
That concludes today's issue of Apps Gone Free. If you like staying on top of these daily deals, don't forget to check out our free AppsGoneFree app.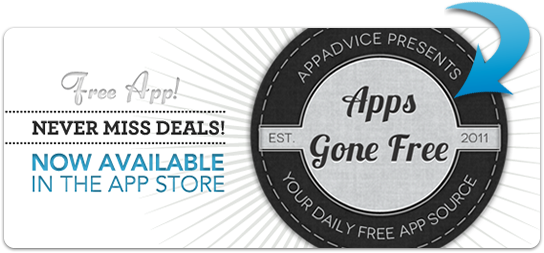 It provides all the deals each day, and even an archive of past deals that are still active.
Developers:
If you are a developer who would like to get your app included in our Apps Gone Free daily lists, heres our basic set of rules:
It must have at least a three-star average rating at the time it goes free.
The app must not have been free numerous times (3+) over the last six months.
The free version of your app must not include ads.
To submit an app, simply send a request to tyler@appadvice.com with the subject Apps Gone Free. Please include the name of the app, a link to it in the App Store, when and for how long you intend to offer the app for free, and anything else you would like to share. We will take it from there.