Get the latest tips & apps for your Smartphone
Today's apps gone free: OLO, Mind the Gap, iOrnament and more
Its all about creating and recreating with todays collection of apps and games. Create enemies by dominating in OLO. Craft fun comic books from your photos with ComicBook! Recreate authentic text in Mind the Gap. And design geometry art in iOrnament.
All app prices are subject to change at any time and without notice regardless of stated free duration. Price changes are solely under the control of the developers.
Universal:
Talking Carl & Gugl ($2.99 Free, 51.3 MB): Your children can spend the time playing with Carl and his friend Gugl with this entertainment app. Its for parents in need of a way to keep their children busy this weekend.
Talking Carl and Gugl doubles the fun of the original smash hit entertainment app by featuring two characters at the same time. Your child can tickle, poke, pinch, flip, and spin both characters separately with taps and swipes. If your child speaks into the mic, Carl and Gugl will repeat exactly what they say in their own goofy voices. Theres even an option to make Carl and Gugl sing in harmony.
Talking Carl & Gugl is available for free for a limited time. It has a 4-star rating with a total of 661 ratings.
ComicBook! ($2.99 Free, 56.7 MB): Turn your subjects into comic heroes and villains with this entertaining photography app. Its the perfect app for anyone who wants to make their photos share-worthy.
ComicBook! provides you with the tools to make your very own comic book from scratch. You're able to choose from 105 different frame layouts, 10 photo filters, 11 caption tools, 10 licensed comic fonts, and a whopping 374 stickers. When you're finished slapping it all together, you're able to save your comic as a PDF or as a JPEG image. You can also share it via Facebook, Twitter, or email. Additional sticker packs are available via in-app purchase.
ComicBook! is available for free today only (12/13). It has a 4.5-star rating with a total of 3208 ratings.

OLO game ($2.99 Free, 16.4 MB): Slide colorful disks around the screen in order to get more into the target zone than your opponent in OLO. Its the perfect game for those who enjoy competing in real time with their friends.
OLO is multiplayer gaming perfection thanks to its slick graphics and silky smooth gameplay. Your goal is to get as many of your own OLOs as possible into the target zone on the opposite side of the screen by sliding them into place. If you miss the target zone, your opponent is able to use your OLO as their own. You can also strategically bounce your own or your opponent's already used OLOs into and through target zones. The game includes local two- and four-player multiplayer options, online multiplayer, voice chat, and achievements and leaderboards via Game Center.
OLO game is available for free today only (12/13). It has a 4.5-star rating with a total of 3319 ratings.
Mind the Gap Guess Words in English Texts ($1.99 Free, 50.8 MB): Learn new words and improve your language skills while having fun with Mind the Gap. Its for anyone who enjoys word puzzles.
Mind the Gap takes authentic English text and cuts out words. Its up to you to reconstruct the missing fragments by trying to understand the context of each sentence. After youve done your best, allow Mind the Gap to go over your answers and provide feedback. You can look up unfamiliar words in the dictionary so you dont make the same mistake twice and go over your personal stats. Mind the Gap includes 15 subject areas and more than 500 pieces of text to work through.
Mind the Gap Guess Words in English Texts is available for free for a limited time. It has a 4.5-star rating with a total of 6 ratings.

iOrnament: draw creative geometry art ($1.99 Free, 58.4 MB): Create ornamental designs that are both artistically and mathematically captivating with iOrnament. Its ideal for those who arent necessarily artistic but love to create.
Anyone can be an artist with iOrnament. As you draw strokes on the screen, iOrnament repeats them according to rules of symmetry. You're able to choose from 17 design groups and 10 colors, and customize the parameters of your pen via sliders. The app also includes unlimited undo and redo, the ability to change the symmetry type on the fly, classic ornament samples, zoom, and the ability to share your work via email, Twitter, or Facebook.
iOrnament: draw creative geometry art is available for free for a limited time. It has a 4.5-star rating with a total of 673 ratings.
Spartan Wars: Elite Edition ($19.99 Free, 47.3 MB): Establish a glorious empire and dominate your realm in this online strategy game. Its ideal for fans of Game of War and other online games.
The Spartan Wars have begun, and only one leader will be left standing. Make sure it's you by building the ultimate empire in this strategy game. Construct barracks, train armies, and call upon the Gods to keep your city safe and secure. Spartan Wars features a lively community of thousands of players, allowing you to create alliances and contend with powerful forces across the land. The game also includes caves to explore for valuable treasures, more than 100 God abilities, and various online events to participate in.
Spartan Wars: Elite Edition is available for free today only (12/13). It has a 4.5-star rating with a total of 5972 ratings.
That concludes today's issue of Apps Gone Free. If you like staying on top of these daily deals, don't forget to check out our free AppsGoneFree app.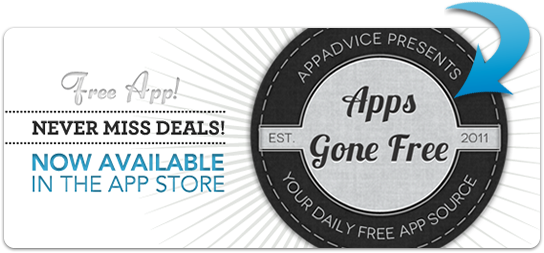 It provides all the deals each day, and even an archive of past deals that are still active.
Developers:
If you are a developer who would like to get your app included in our Apps Gone Free daily lists, heres our basic set of rules:
It must have at least a three-star average rating at the time it goes free.
The app must not have been free numerous times (3+) over the last six months.
The free version of your app must not include ads.
To submit an app, simply send a request to tyler@appadvice.com with the subject Apps Gone Free. Please include the name of the app, a link to it in the App Store, when and for how long you intend to offer the app for free, and anything else you would like to share. We will take it from there.