Get the latest tips & apps for your Smartphone
Today's apps gone free: RGB Express, Hoopa City, Calendarium and more
Deliver colorful packages by drawing your path in RGB Express. We also have a childrens entertainment app, and an app that allows you to discover historical events.
All app prices are subject to change at any time and without notice regardless of stated free duration. Price changes are solely under the control of the developers.
iPhone:
Simple Shape : 7 Minute Challenge Workout ($4.99 Free, 81.4 MB): Work your entire body into shape with this fitness app. AppsGoneFree users can unlock all of Simple Shapes workouts for free today! Just tap the Unlock All button and you wont be charged. You can also hide any ads with a tap. Its designed for anyone who doesnt have a lot of time to focus on their fitness.
All you need is seven minutes to get in shape. You must first enter necessary profile information and a target weight goal. Then get to work by choosing from four different categories that focus on different areas of the body. Each exercise includes voice instructions along with a video demonstration. You can track all of your performance stats as well as unlock special achievements.
Simple Shape : 7 Minute Challenge Workout is available for free today only (10/22). It has a 5-star rating with a total of 6 ratings.
Universal:
Calendarium ($0.99 Free, 2.9 MB): Discover historical events and holidays that happened on this day with this reference app. Its for anyone interested in learning something new each and everyday.
Calendarium helps you live in the present and the past. The top portion of the screen displays todays date, the week of the year, sunrise and sunset times, and the number of days that have passed and are left in the year. The bottom portion includes all of the historical events and major holidays that occurred on this very day. Tap and hold on an event or holiday to share it via Twitter, Facebook, Messages, or email.
Calendarium is available for free today only (10/22). It has a 4-star rating with a total of 210 ratings.
Video Time Machine ($2.99 Free, 7.6 MB): Head down memory lane by watching hand-picked videos from the past with Video Time Machine. Its for anyone feeling nostalgic.
Video Time Machine is loaded with more than 20,000 new and old TV, music, advertisement, movie trailer, video game, and sports videos to enjoy. All you need is a stable internet connection to enjoy. Spin the dials on the right side of the screen to choose a year and a category, and a video will pop right up. If you dont have something specific in mind, let Video Time Machine choose something for you. Videos can be played over 3G, 4G, or Wi-Fi, and you can send them over to your Apple TV via AirPlay.
Video Time Machine is available for free today only (10/22). It has a 4.5-star rating with a total of 4562 ratings.
RGB Express – Mini Truck Puzzle ($2.99 Free, 18.9 MB): Deliver colorful packages to the correct houses and businesses in this charming puzzle game. RGB Express is for anyone looking for a casual, logic-based puzzle experience.
RGB Express is the perfect pick-up-and-play puzzle game. The first few levels will help you understand the drag-to-draw mechanic while teaching you a few tricks along the way. Things get a little hectic after that, as you will come across bridges, buttons, and cargo swaps. But no matter how difficult things get, all you have to do is keep in mind that the packages must be delivered to their corresponding buildings without causing a a crash or a traffic jam.
RGB Express – Mini Truck Puzzle is available for free today only (10/22). It has a 5-star rating with a total of 86 ratings.

Hoopa City ($2.99 Free, 43.1 MB): Your child is going to have a ton of fun planning and building up Hoopa City. It was designed for children with big imaginations.
Hoopa City allows your child to build their very own city however they like. They can experiment with seven building materials like water, electricity, plants, and brick. Everything can be placed with a tap and it will take on its own form. Progress is saved automatically, and your child can have multiple cities going at once. Hoopa City is free of timers, stressful elements, and rules, so your child can enjoy it however they want.
Hoopa City is available for free today only (10/22). It has a 4.5-star rating with a total of 105 ratings.
Toca Pet Doctor ($2.99 Free, 57.9 MB): Tend to 15 adorable and charming pets in this childrens entertainment app. Toca Pet Doctor is for parents with children ages two through six who want to keep them engaged and entertained.
Like every other Toca Boca entertainment app, Toca Pet Doctor is just oozing with character. Your child gets to nurse 15 pets back to health. Each pet has a different issue, like a turtle stuck on his back or a cat with a wound on his ear. Once each issue has been tended to, your child gets to feed them treats and send them on their way. Toca Pet Doctor is void of rules and stressful elements, so just hand off your iDevice and allow your child to enjoy the experience.
Toca Pet Doctor is available for free today only (10/22). It has a 3.5-star rating with a total of 157 ratings.
That concludes today's issue of Apps Gone Free. If you like staying on top of these daily deals, don't forget to check out our free AppsGoneFree app.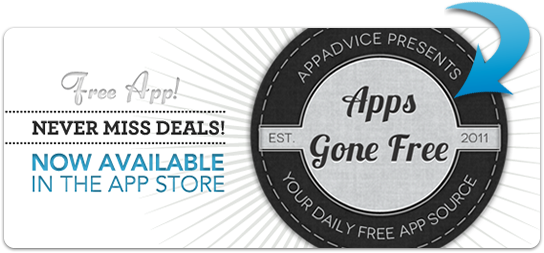 It provides all the deals each day, and even an archive of past deals that are still active.
Developers:
If you are a developer who would like to get your app included in our Apps Gone Free daily lists, heres our basic set of rules:
It must have at least a three-star average rating at the time it goes free.
The app must not have been free numerous times (3+) over the last six months.
The free version of your app must not include ads.
To submit an app, simply send a request to tyler@appadvice.com with the subject Apps Gone Free. Please include the name of the app, a link to it in the App Store, when and for how long you intend to offer the app for free, and anything else you would like to share. We will take it from there.