Get the latest tips & apps for your Smartphone
Today's apps gone free: Riptide GP2, Synesthetic, IQ Mission and more
Relax this weekend with our collection of fantastic free games like Riptide GP2, Synesthetic, IQ Mission, and Gravity Blocks.
All app prices are subject to change at any time and without notice regardless of stated free duration. Price changes are solely under the control of the developers.
iPhone:
WonderNote ($0.99 Free, 6.6 MB): Take note of everything that happens in your life with WonderNote. Its great for keeping a diary or simply collecting your thoughts.
WonderNote can be whatever you want it to be. Youre able to customize the colors of the interface to match your own personal style. Then start recording your thoughts as words, photos, or audio. The app operates perfectly in both landscape and portrait orientations. Youre also able to backup your notes to iCloud and share them via Twitter or email.
WonderNote is available for free for a limited time. It has a 4.5-star rating with a total of 5 ratings.
Universal:
Gravity Blocks X – The Last Rotation ($0.99 Free, 58.5 MB): Unblock your mind in this challenging sliding puzzle game. Its for fans of puzzle games who are in need of a true challenge.
Blockham City has become shrouded in darkness, and only the block heroes can save it by completing puzzling missions. The basic goal of the game is to get your block from the starting point to the end target by sliding it all over the screen. The usual sliding puzzle game rules apply, where you cant simply slide pass your end target; you must stop on top of it. But as you progress through the game, new elements will be added to complicate things. Hopefully youre up for the challenge. The game includes six modes, over 180 levels, and achievements and leaderboards via Game Center.
Gravity Blocks X – The Last Rotation is available for free for a limited time. It has a 4-star rating with a total of 16 ratings.
IQ Mission ($2.99 Free, 151.9 MB): A collection of challenging logic puzzle games. Its ideal for brain training.
IQ Mission is a ton of fun in short bursts. Each of the eight cities has a different form of puzzle to solve. For completing each task, youll receive a part of the map. Once the map is complete youll unlock the secret source of the Earths energy. The game includes 128 puzzles, eight informants, and achievements via Game Center.
IQ Mission is available for free for a limited time. It has a 4-star rating with a total of 52 ratings.
Celtic Tribes – X-Mas Edition ($1.99 Free, 70.4 MB): Take a humble village from obscurity to the top as its chieftain in this online strategy game. Its for those who enjoy games like Clash of Clans.
Winter has come to the lands of the Celtic Tribes. Prove yourself to be a fearless leader by recruiting warriors to help battle surrounding villages across the snow covered lands and eventually overtake them. Gather precious resources to fortify your border and upgrade your facilities to turn your village into a bustling city. You're also able to practice diplomacy to maximize your capabilities. Dont forget to keep an eye out for Santa. You never know when hell be making a pass through your empire.
Celtic Tribes – X-Mas Edition is available for free today only (12/06). It has a 4.5-star rating with a total of 5 ratings.
Riptide GP2 ($1.99 Free, 45.9 MB): Take your supercharged hydro jet on a wild ride through a variety of environments in Riptide GP2. Its for gamers who appreciate gorgeous racers.
Were recommending Riptide GP2 for all gamers today thanks to its console-quality graphics and gameplay. Tilt to carve your hydro jet through the water and fire your boosters to race into first place. If you have a compatible gamepad, link it up for even tighter and more accurate controls. You're able to fill your boost meter by performing crazy tricks off of the ramps that are scattered about the tracks. Riptide GP2 includes a career mode, four-way online multiplayer, nine hydro jets to unlock, 25 stunts to perform, and iCloud integration.
Riptide GP2 is available for free for a limited time. It has a 4.5-star rating with a total of 1833 ratings.
Synesthetic ($2.99 Free, 17.4 MB): Synesthetic utilizes music from your library to create an obstacle-filled roller coaster ride like no other. Its ideal for those who enjoy games like Unpossible.
Everything in the game is controlled by your music. You're able to pick any non-DRM track from your library. Then speed down the tube while trying to dodge the obstacles that are generated from it. You'll know if you hit one because the music will fade out. The game includes three modes per song, multiple color themes, two control schemes, and achievements via Game Center.
Synesthetic is available for free for a limited time. It has a 4.5-star rating with a total of 1357 ratings.
That concludes today's issue of Apps Gone Free. If you like staying on top of these daily deals, don't forget to check out our free AppsGoneFree app.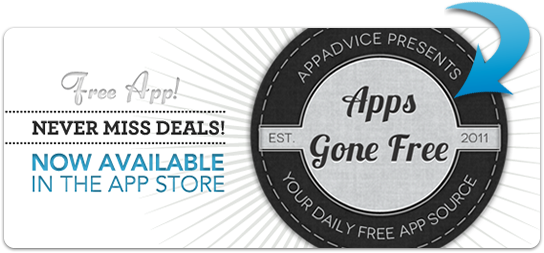 It provides all the deals each day, and even an archive of past deals that are still active.
Developers:
If you are a developer who would like to get your app included in our Apps Gone Free daily lists, heres our basic set of rules:
It must have at least a three-star average rating at the time it goes free.
The app must not have been free numerous times (3+) over the last six months.
The free version of your app must not include ads.
To submit an app, simply send a request to tyler@appadvice.com with the subject Apps Gone Free. Please include the name of the app, a link to it in the App Store, when and for how long you intend to offer the app for free, and anything else you would like to share. We will take it from there.