Get the latest tips & apps for your Smartphone
Today's apps gone free: Shantae: Risky's Revenge, MacID, Srcfari and more
Fight off monsters with a whip of your hair, unlock your Mac remotely, and view the source code for any website with todays collection of apps and games.
All app prices are subject to change at any time and without notice regardless of stated free duration. Price changes are solely under the control of the developers.
Universal:
Srcfari the view html source code browser ($1.99 Free, 2.5 MB): View the source code and assets for any website with Srcfari. Its perfect for web developers.
Srcfari cracks open any website on the entire internet. Just point the built in browser at a website and tap the source code button in the bottom left corner of the screen. Your view will instantly change, allowing you to see all of the sour code with syntax highlighting. The code can be copied and shared via email. Srcfari also allows you to view all of the assets included within a website and save them as well.
Srcfari the view html source code browser is available for free for a limited time. It has a 4-star rating with a total of 8 ratings.
MacID for iOS ($3.99 Free, 850.7 KB): Unlock any and all of your Macs with your iDevice with MacID. Its great for home or office settings were security and privacy are necessary.
MacID is all about making your Mac more secure. It leaves you free to set a longer and more secure password by allowing you to unlock your Mac with just your fingerprint or iDevice passcode. It also allows you to manually lock, auto-lock, and wake your Mac when youve returned via a nifty proximity setting. MacID is more than just a lock and key, however. It provides you with audio playback controls, the ability to share clipboard content between your iDevice and your Mac, and the ability to authorize tasks that require a password.
MacID for iOS is available for free for a limited time. It has a 3.5-star rating with a total of 65 ratings.

Squares – Challenging Puzzle Game ($0.99 Free, 5.2 MB): Squares has you moving colored blocks to their matching dots. Its ideal for anyone who enjoys sliding puzzle games.
The best puzzle games are the simplest. The object of Squares is to tap on the colored blocks to get them to their matching dots. Easy enough, right? Well, the blocks can only move in the direction their arrows point, which means you must utilize other blocks to get them where they need to go. The game includes 36 challenging levels, and a pattern overlay option for those who are color blind.
Squares – Challenging Puzzle Game is available for free for a limited time. It has a 4.5-star rating with a total of 29 ratings.

Whats The Movie? ($1.99 Free, 43.9 MB): Think you know your movies? Find out in Whats The Movie? Obviously its ideal for movie buffs, but its also a fun distraction for fans of brain teasers.
You're presented with four separate images that have something to do with the movie. You must try to guess its title by utilizing the collection of letters provided to you. If you can't, you're allowed to use hints, but they do come at a cost. The game includes movie trivia that spans four decades, and achievements and leaderboards via Game Center.
Whats The Movie? is available for free today only (03/16). It has a 4-star rating with a total of 963 ratings.
Shantae: Risky's Revenge (Full) ($2.99 Free, 93.3 MB): Use your hair to whip monsters to shreds and foil the lady pirate Risky Boots plan to destroy Sequin Land in this platformer. Its for fans of classic platformers with retro graphics.
Shantae isnt your usual video game hero. Shes a half-human, half-genie destruction machine! As you make your way through the vibrant environments, youll need to whip monsters with her hair and belly dance to transform into powerful creatures. Shantae is packed with loads of quests and boss battles, so be prepared to have your time sucked away. The game utilizes on-screen controls, but it does support game controllers like MOGA Ace Power and SteelSeries Stratus.
Shantae: Risky's Revenge (Full) is available for free for a limited time. It has a 5-star rating with a total of 17 ratings.
That concludes today's issue of Apps Gone Free. If you like staying on top of these daily deals, don't forget to check out our free AppsGoneFree app.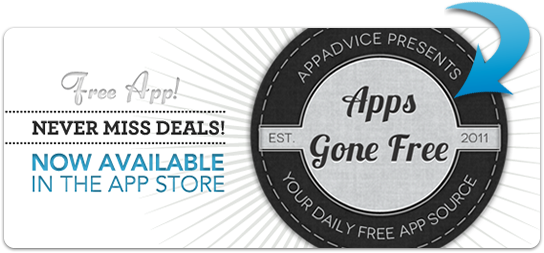 It provides all the deals each day, and even an archive of past deals that are still active.
Developers:
If you are a developer who would like to get your app included in our Apps Gone Free daily lists, heres our basic set of rules:
It must have at least a three-star average rating at the time it goes free.
The app must not have been free numerous times (3+) over the last six months.
The free version of your app must not include ads.
To submit an app, simply send a request to tyler@appadvice.com with the subject Apps Gone Free. Please include the name of the app, a link to it in the App Store, when and for how long you intend to offer the app for free, and anything else you would like to share. We will take it from there.