Get the latest tips & apps for your Smartphone
Today's apps gone free: Shift, Mystery Math Museum, Globo and more
We have a bunch of fantastic gifts for you to install on your new iPhone or iPad. Everything from math and puzzle games to a world clock and a custom photo filter creator. Enjoy!
All app prices are subject to change at any time and without notice regardless of stated free duration. Price changes are solely under the control of the developers.
iPhone:

Globo – World Clock and Weather ($0.99 Free, 1.7 MB): An eye-popping world clock that will meet all of your time checking needs. Its a handy app for travelers or those with friends and family across the globe.
Youre able to create a list of your favorite locations around the world and view their times as a color-coded list. Tap on a location to view more detailed information like its time zone, time interval and distance from you, coordinates, and even weather. Youre also able to change the time in one location and see the changes in all of your other locations. The app includes support for up to 64 custom location-based alarms, imperial and metric support, two sorting options, and 12- and 24-hour formats.
Globo – World Clock and Weather is available for free for a limited time. It has a 4.5-star rating with a total of 11 ratings.
Universal:
Nozoku Rush ($1.99 Free, 4.8 MB): Its all about the subtraction action in this numbers-based puzzle game. Its the perfect game for fans of the matching genre.
Nozoku Rush is one intense matching game. Numbered tiles will stream in from the top of the screen and settle in at the bottom. Its your job to swipe across the numbered tiles in order to get them to subtract down to zero. Select two matching tiles to earn a zero tile, which can basically be used as a wild card to string together huge combos. Including five or more tiles in a swipe will allow you to clear large swaths of tiles at once. Special tiles will also appear, allowing you to remove entire rows all at once or delay the dropping of new tiles. The game includes two modes, each with an extreme version to really put your math skills to the test. It also includes leaderboards via Game Center.
Nozoku Rush is available for free today only (12/25). It has a 4.5-star rating with a total of 78 ratings.
Shift ($0.99 Free, 33.9 MB): Design your own filters with this entertaining photography app. Its for anyone who is tired of dealing with stock filters and effects.
Shift allows you to tap into your inner artist. Take a photo from within the app or import one from your camera roll. Youre then able to drag the three points on the screen to adjust the filter, pinch and pull to focus on different points, and dial in the color and intensity via sliders. If you like what you see, tap the favorite button to save the filter for later use. Theres no limit on the number of filters or the looks you can create. Theres also a shuffle button in case youre having troubles coming up with something on your own.
Shift is available for free today only (12/25). It has a 4.5-star rating with a total of 22 ratings.

Oquonie ($2.99 Free, 60.7 MB): Find your way across an intertwined megastructure in this captivating puzzle game. Its for gamers who enjoy tricky puzzles and fantastic artwork.
Youre immediately thrown into the beautiful hand-drawn world without any explanation of whats going on. You absolutely will not find any hand-holding here. Theres no discernible dialogue and no instructions. You must simply work your way through room after room with a swipe in search of your purpose. Just enjoy the experience and be persistent. The game includes 2.5-D graphics by illustrator Rekka Bellum, an ominous soundtrack, and loads of mini-puzzles.
Oquonie is available for free today only (12/25). It has a 4-star rating with a total of 69 ratings.
Big Fish Casino Free Slots, Vegas Slots & Slot Tournaments! Plus Poker, Cards, 21 and more! ($4.99 Free, 47.5 MB): Go big or go home in Big Fish Casino. Try your luck at slots, blackjack, Texas holdem, roulette, and more. A Christmas bonus will be doled out to all casino players today in the form of 100,000 free chips! Big Fish Casino is the perfect game for anyone looking to play some casino games without losing all of their hard-earned cash.
We highly recommend Big Fish Casino because of the variety of ways to win. Thanks to the daily bonuses, daily scratchers, and free bonus spins, you dont just have to be a master of the cards or have a lucky streak at the slot machines to build up your chip stack. The chips you earn allow you to level up your profile and earn gifts to share with friends. You can also invite friends to play along with you and chat with them through the built-in message center.
Big Fish Casino Free Slots, Vegas Slots & Slot Tournaments! Plus Poker, Cards, 21 and more! is available for free today only (12/25). It has a 4.5-star rating with a total of 84027 ratings.
Tiny Dentist Christmas ($1.99 Free, 44.3 MB): Your child gets to play dentist and help their patients get healthy holiday smiles with this entertainment app. Its a great way to keep your children busy over the holiday break.
Theres just so much to do in Tiny Dentist Christmas. It includes a vast number of colorful characters in need of some serious dental help. Your child can scroll through all of the tools at the bottom of the screen and tap on the ones that want to use like an extractor, brush, bleach, x-ray, and braces. They can also snap pictures of their patient during or after the procedure and share them on Facebook.
Tiny Dentist Christmas is available for free for a limited time. It has a 3.5-star rating with a total of 33 ratings.

Calculator ($0.99 Free, 2.5 MB): A beast of a calculator app. Its the perfect productivity app for math whizzes.
Calculator is actually three calculators in one: scientific, graphing, and programmer. Youre able to access the three different calculators by swiping left and right across the screen. The scientific calculator supports decimal and negative non-integer factorials, decimal combinations and permutations, and parenthesis. The graphing calculator supports all of the features in the scientific calculator while providing a workspace for manually inputting and evaluating math equations. Its also able to plot 2-D graphs using adaptive sampling routine. The programmer calculator supports 64-bit bitwise calculations, Unicode and ASCII characters, and DEC, OCT, and HEX number systems. The app is able to operate in portrait or landscape orientation as well.
Calculator is available for free for a limited time. It has a 3.5-star rating with a total of 11 ratings.
iPad:
Mystery Math Museum ($2.99 Free, 379.3 MB): Your child must help a friendly ghost rescue the dragonflies hidden in the Mystery Math Museum. Its a fun educational game that will help your young child work on their math skills.
To help the ghost get from room to room, your child will need to collect numbers and build equations to solve problems. Along the way theyll earn talking portraits to add to their gallery. The portraits have different stories to tell through colorful characters. The game includes eight themed museums, support for multiple user accounts, bonus challenges and unique rewards, and customizable skills.
Mystery Math Museum is available for free for a limited time. It has a 4.5-star rating with a total of 47 ratings.
That concludes today's issue of Apps Gone Free. If you like staying on top of these daily deals, don't forget to check out our free AppsGoneFree app.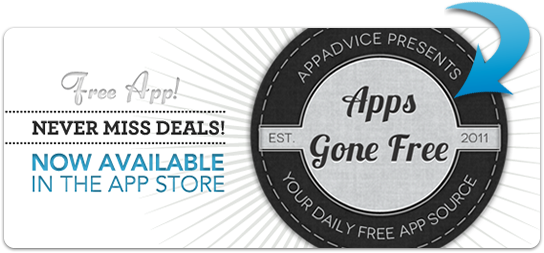 It provides all the deals each day, and even an archive of past deals that are still active.
Developers:
If you are a developer who would like to get your app included in our Apps Gone Free daily lists, heres our basic set of rules:
It must have at least a three-star average rating at the time it goes free.
The app must not have been free numerous times (3+) over the last six months.
The free version of your app must not include ads.
To submit an app, simply send a request to tyler@appadvice.com with the subject Apps Gone Free. Please include the name of the app, a link to it in the App Store, when and for how long you intend to offer the app for free, and anything else you would like to share. We will take it from there.