Get the latest tips & apps for your Smartphone
Today's apps gone free: Table Top Racing, Words With Monsters, xSolve and more
Enjoy whats left of your weekend by racing around table tops, playing word games with monsters, solving math problems, and touching up your selfies.
All app prices are subject to change at any time and without notice regardless of stated free duration. Price changes are solely under the control of the developers.
iPhone:
Ava Photo ($0.99 Free, 21.2 MB): Touch up your selfies with this fantastic photo editor. Its for those who want to soften up their selfies while keeping their natural look.
Ava Photo can correct just about everything that's wrong with your selfie. It will analyze all aspects of your photo and allow you to adjust the beautification level with a slide of your finger. You can further enhance your selfie by removing dark circles and bags around your eyes, erasing blush spots, smoothing out skin blemishes, and spicing things up with a filter.
Ava Photo is available for free today only (01/18). It has a 5-star rating with a total of 22 ratings.
Universal:
xSolve – Advanced Equation Solver ($1.99 Free, 832.2 KB): Solve linear equations in a snap with this helpful education app. Its ideal for students and anyone else who deals with equations.
Solving a long linear equation is not only difficult, its also time consuming. Thats where xSolve comes in. Its intuitive interface allows you to simply plug numbers in and solve equations in a snap. Youre able to set the number of variables, create your own custom variables, and adjust the accuracy up to 12 decimal places. No internet connection is required, either.
xSolve – Advanced Equation Solver is available for free for a limited time. It has a 4-star rating with a total of 16 ratings.

Words With Monsters ($0.99 Free, 31.9 MB): Battle big, goofy monsters by forming words in this unique word game. Fans of word games will enjoy this twist on the genre.
Words With Monsters utilizes the same tried and true word game formula found in Scrabble, but adds role-playing game elements to provide a wholly unique experience. When you create valid words from your letters and submit them, instead of adding to your total score, those points are actually used as hit points that are applied to your enemys health. You must try to create the best possible words and place them on letter multipliers to remove your opponents health before they do the same to you.
Words With Monsters is available for free for a limited time. It has a 4.5-star rating with a total of 77 ratings.
Table Top Racing Premium Edition ($2.99 Free, 145.4 MB): A fast and furious racing game that takes place on table-top race tracks. Its perfect for gamers who are looking for a console-quality experience.
This is one gorgeous racing game. You get to jump behind the wheel of 17 upgradable cars, and you must do everything in your power to be the first to cross the finish line. Tracks are littered with loads of oversized obstacles and hairpin turns, so you better be ready for a true challenge. Try to steer into the various boxes spread across the tracks to receive a random power-up and unleash it with a tap to take out your closest opponents. Table Top Racing includes single and multiplayer modes, eight tracks, third-party controller support, and 30 special events.
Table Top Racing Premium Edition is available for free today only (01/18). It has a 4.5-star rating with a total of 19 ratings.
Game of War – Fire Age ($26.99 Free, 41.2 MB): An addictive strategy game with a fun social aspect that is not found in similar popular games like Clash of Clans. This week only they are giving away $7 worth of gold and $20 worth of teleports, so you can play for a while without spending real money and align with your friends.
Build up your empire to become the king of all the land in this hugely popular real time strategy game. Construct barracks, build up walls and train troops to amass the power needed to conquer the world. Use the real-time interactive map, where you see all the other active players playing on single map, to forge powerful alliances. The game also includes live chat, the ability to research new technologies and craft powerful weapons, and achievements via Game Center.
Game of War – Fire Age is available for free today only (01/18). It has a 4.5-star rating with a total of 64618 ratings.
That concludes today's issue of Apps Gone Free. If you like staying on top of these daily deals, don't forget to check out our free AppsGoneFree app.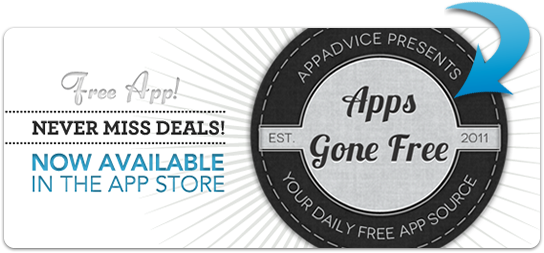 It provides all the deals each day, and even an archive of past deals that are still active.
Developers:
If you are a developer who would like to get your app included in our Apps Gone Free daily lists, heres our basic set of rules:
It must have at least a three-star average rating at the time it goes free.
The app must not have been free numerous times (3+) over the last six months.
The free version of your app must not include ads.
To submit an app, simply send a request to tyler@appadvice.com with the subject Apps Gone Free. Please include the name of the app, a link to it in the App Store, when and for how long you intend to offer the app for free, and anything else you would like to share. We will take it from there.