Get the latest tips & apps for your Smartphone
Today's apps gone free: Yoga Break, AmbiScience, Owen's Odyssey and more
Take a break with some yoga sessions, relax to the sound of binaural and isochronic tones, and fly through a castle using a propeller hat with todays collection of apps and games.
All app prices are subject to change at any time and without notice regardless of stated free duration. Price changes are solely under the control of the developers.
Universal:

Owen's Odyssey ($0.99 Free, 10.0 MB): Help Owen fly around all kinds of dangerous obstacles in this genre-mashing arcade game. Its for anyone who enjoys Flappy Bird and classic platforming goodness.
Owens Odyssey has a little bit of everything. Owen is armed with only a propellor hat, and he needs your help making it through a castle full of spikes, saws, fires, falling rocks, lava, and creatures of all shapes and sizes. To do so, simply tap the right side of the screen to fly ahead. Tap the left side to stop Owen in his tracks. Try to beat the target time in each level to earn an extra life, because otherwise you will not make it through all 40.
Owen's Odyssey is available for free for a limited time. It has a 4-star rating with a total of 20 ratings.
Yoga Break ($2.99 Free, 90.1 MB): Take time for a quick Yoga Break with this fitness app. Its for those who want to increase their bodys strength, endurance, and flexibility without committing a lot of time to it.
Yoga Break provides short yoga sessions that everyone from beginners to experts can incorporate into their busy lives. The 14 sessions vary in duration from three to 15 minutes. Each session includes video and audio instructions along with brief descriptions to ensure youre performing the poses correctly. The app also includes achievements to earn, activity and progress tracking, and the ability to practice poses separately without starting sessions.
Yoga Break is available for free today only (02/21). It has a 5-star rating with a total of 6 ratings.
100 Binaural Beats and Isochronic Tones! | AmbiScience ($1.99 Free, 210.4 MB): Attune your brain to different states of mind by listening to binaural and isochronic tones with this health app. Its the ideal app for those who need help sleeping or simply relaxing.
It includes 13 long ambient tracks, 100 binaural and isochronic tones, 10 nature loops, and three noise tracks. It also includes a full set of instructions, background audio support, the ability to create your own custom programs, repeating alarms, and a countdown timer.
100 Binaural Beats and Isochronic Tones! | AmbiScience is available for free for a limited time. It has a 4-star rating with a total of 188 ratings.
Carota! ($1.99 Free, 13.0 MB): Guide Thaddeus the Cabbit back to the surface in this Pipe Dream-inspired game. Carota! is for anyone who enjoyed classic SNES puzzle games.
You'll find Thaddeus stranded on a platform at the beginning of each level. Platforms can be rotated, dragged, and even added to help him reach the exit. Thaddeus must clear a specific amount of pieces before reaching the exit, however, so you must plan ahead. The game includes 50 levels, three modes, six original music tracks, and achievements and leaderboards via Game Center.
Carota! is available for free for a limited time. It has a 4.5-star rating with a total of 39 ratings.
Cursed Treasure 2 ($2.99 Free, 257.1 MB): Protect your gems from thieving goody-goody heroes in this tower defense game. Its for fans of the genre who are tired of always playing the good guy.
Its not often that you get to play as an evil overlord, so make sure to relish this opportunity. In Cursed Treasure 2, its up to you to defend your gems from the likes of knights, druids, ninjas, and all the other greedy heroes that consider themselves Warriors of Light by erecting towers and casting spells. Towers can evolve from three basic types as the evil in you grows stronger, and youre able to master 30 different skills. The game also includes 21 levels, and a night mode where the darkness works against you.
Cursed Treasure 2 is available for free for a limited time. It has a 4.5-star rating with a total of 8 ratings.
That concludes today's issue of Apps Gone Free. If you like staying on top of these daily deals, don't forget to check out our free AppsGoneFree app.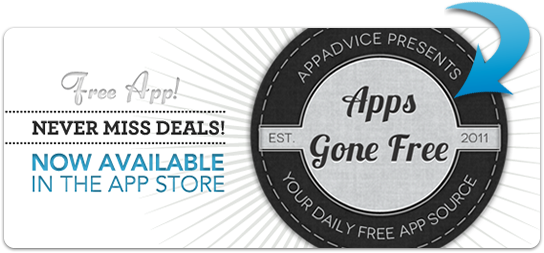 It provides all the deals each day, and even an archive of past deals that are still active.
Developers:
If you are a developer who would like to get your app included in our Apps Gone Free daily lists, heres our basic set of rules:
It must have at least a three-star average rating at the time it goes free.
The app must not have been free numerous times (3+) over the last six months.
The free version of your app must not include ads.
To submit an app, simply send a request to tyler@appadvice.com with the subject Apps Gone Free. Please include the name of the app, a link to it in the App Store, when and for how long you intend to offer the app for free, and anything else you would like to share. We will take it from there.